Axis Gatepass – Empower your Infrastructure security
Axis Gatepass is a software application that records and tracks movements of visitors, vehicles, contract workers and material inward outward etc. The software generates passes for authorised visitors, vehicles and material outward. These passes can be designed with photographs and barcodes. Axis Gatepass uses advanced technologies and devices like face recognition, finger prints, GSM modem, visiting card scanner with OCR, digital pen and HID tags to give an integrated & technologically futuristic solution.
The requirement to fortify the Gates has evolved with the evolution of Infrastructure. Since ages empires and dynasties have strived to have strong protection and astute management at the Gates. In recent times all businesses require a tab on the visitors and vehicles moving through the gates. The security, vigilance and to track movement of visitors and vehicles at the gate is of paramount importance.
Visitors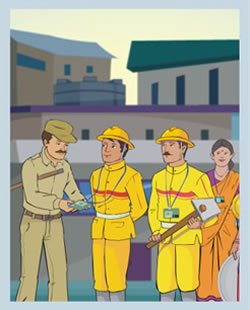 Contract Workers
Material – IO
Vehicles
Understanding this need we have developed a software application that manages all the activities at the gate like visitor management, vehicle management, contract worker management. The software can be used to print visitor, vehicle, long duration, Material, single day or long duration gatepasses. The gatepasscan be designed to contain photographs and barcodes. The barcode is used to identify and mark the exit of a visitor, visitor tracking or to identify a vehicle and help in vehicle tracking.
When a visitor arrives at the gate to meet an employee, his image is captured at the gate using a web-camera and is sent to the employee. The employee can see the visitor photograph and other details and authorize the visitor to enter the organization. We also provide card-scanner that automates the visitor data capture. Just click the visitor photograph, scan his visiting card and send the details for authorization. If the visitor is approved, print the visitor gatepass or badge with visitor photograph and other details that can be customized as per the requirement.
The software has add-on modules like SMS service for one-way or two-way visitor authorization using web-based SMS gateway or by a central GSM-modem. The SMS service can be used to announce visitor arrival on employee mobile-phone. Returnable and non-returnable material gatepass can also be printed using this software. Axis gatepass keeps track of returnable and non-returnable material moving out from the organization. The software not just records and maintains the visitor details but also provides important reports and utilities like – top organization sending visitors, top employees receiving visitors, current visitors, black list visitor and organization etc.
Buy visitor management software for Visitor sign, visitor management solutions, Gate Security System Software. Axis Gatepass is a software application that records and tracks movements of visitors, vehicles, contract workers and material inward outward.
E-MAIL contact@smginfotech.com
Phone  +91-79-26748868, +91-79-26731132